NATIONAL PARK: Dogs not allowed
ENTRY: Free
ROAD ACCESS: Bitumen Road approx 11 kms from Bruce Highway at Mirriwinni township.
FACILITIES: No Facilities. No camping.
WALKS: 1 km walk to lookout over Wetlands.  Unsealed track.  Difficulty: moderate to easy.
WARNINGS:  Not recommended during flooding as crocodiles will move into flooded areas including walking track.
ABOUT EUBENANGEE WETLANDS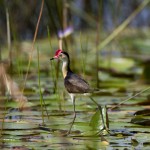 The Eubenangee Swamp National Park is one of the most important wetland areas between Cooktown and Ingham. It contains a number of rare plant species and plays an important role in the conservation of the region's wildlife, in particular birds. The swamp is one of the best bird watching spots in far north Queensland, but you will almost always spot butterflies, turtles and crocodiles as well.
 Turn off at Mirriwinni on to the Bramston Beach Road, and travel about 9 kilometers to the sign-posted turnoff. A 1 kilometre walking track allows visitors to explore Eubenangee's fascinating wetlands and an outstanding view of Mt Bartle Frere.
There are no facilities except for the walking track, and camping is not permitted. Admittance is free.